As facilities in New York and around the country plan to reopen safely, it's important to have a plan for frequent and effective large-scale cleaning solutions for your entire workplace.
We are seeing the emergence of new and improved practical and affordable solutions for large-scale disinfecting. The Guardair Syphon Spray System, is an excellent choice for facilities of varying size and industry.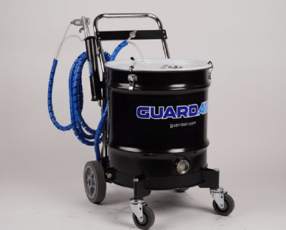 The unit is powered by compressed air that utilizes an attached spray gun to clean surfaces with disinfectants and sanitizing solutions. It is safe for use with solutions containing ammonia, bleach, hydrogen peroxide and more. It comes on wheels for easy maneuvering and has an adjustable tip so that you can set it to a fine spray for use with a wider range of applications.
Download the Guardair Syphon Spray System Product Sheet
If you are interested in the Guardair Syphon Spray System, please reach out to a member of the Edge Electronics MRO team for assistance! (These units are a great cost-effective cleaning solution for facilities and are available quickly with about a 2 week lead time.)
For more on COVID-19 prep and recovery, please check out Edge Electronics' Guide to COVID-19 Resources & Recovery Solutions.
Edge is a Certified Women's Business Enterprise (WBE) and member of the Grainger Distributor Alliance.