Buildings and facilities will need plenty of tools to assist with major operation changes in order to meet COVID-19 recovery requirements. Throughout the day, crowd levels will need to be actively monitored, the number of people allowed in may need to be limited (especially during busier times of day), and social distancing rules will need to be enforced.
Placing stickers, markers, and signs throughout the building will help you and your staff monitor crowds and encourage visitors to observe these new social distancing rules.
Here are a couple of resources that are increasingly popular due to new building requirements to keep our employees and customers safe. (Starbucks and CVS are a couple of customers who are already implementing these!)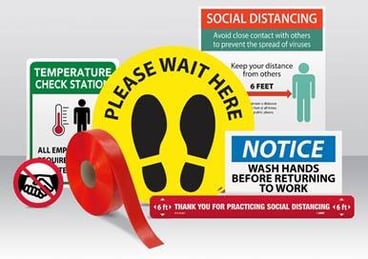 Social Distancing Signage
A great assortment of signs, banners, posters, light signage, stencils, acrylic PPE dispensers, work station guards. Customization is available for many of these options, and most can ship within 2 days.
View the complete catalog here
Social Distance Signage Location Tips:
Entranceways should be marked with numerous large signs and banners to instruct proper protocol and directions to enter.
Bathrooms should be marked with signage pertaining to hand washing, occupancy, mask requirements, and more.
Hallways should include one way and aisle markings, social distancing reminders, and floor tape.
Classrooms need social distance markers, directional floor signage (for doorways), posters, occupancy and protocol signs, workstation specific signs, and more.
Offices work well with floor signs for where to stand, occupancy signs, and posters.
Cafeterias also need numerous posters, occupancy signs, social distance signage on tables and chairs, directional floor signs, and floor tape to direct traffic.
Other assorted locations may require communication boards, special signs for door and walls, CDC COVID-19 posters and signs, and more.
Any PPE or sanitizing stations must be clearly marked with signs as well.
We hope this is helpful and of course, let us know if you are looking for specific solutions. We are committed to delivering the best practices and solutions to our customers so that you are ahead of the curve.
For more on COVID-19 prep and recovery, please check out Edge Electronics' Guide to COVID-19 Resources & Recovery Solutions.
Edge is a Certified Women's Business Enterprise (WBE) and member of the Grainger Distributor Alliance.