Customers looking for the latest and greatest NVMe SSD from Micron are all asking the same question: When will the 7300 be available to order?
If we were to take a guess, we'd say the official announcement of a target release date is right around the corner.
During the third quarter of 2019, Micron announced its highly anticipated 7300 series NVMe SSD – the future of mainstream NVMe storage for the masses. After its release, the 7300 will be Micron's latest long-life, high performance endurance drive for enterprise storage.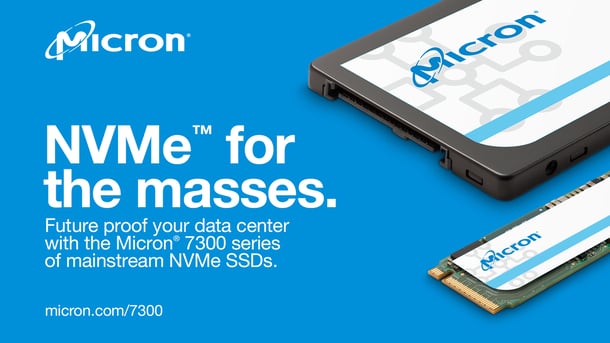 The goal with the 7300 is to expand the availability of NVMe drives by making them a more appealing and affordable storage solution to a larger market. The drive leverages Micron's proven 3D 96-layer TLC NAND technology to increase performance and reliability across a broader range of applications including cloud platforms, transaction processing, analytics, large object / small block stores, emerging applications like machine learning, and more.
Here's what makes the 7300 so great:
Up to 6x performance compared to SATA drives
High performance and low power consumption
Capacities ranging from 400GB to 7.68TB
Available in both U.2 and M.2 form factors
A PRO model for read-intensive applications yielding 1 DWPD
A MAX model for mixed-use applications yielding 3 DWPD
Sequential read and write performance of 3.0GB/s and 1.8GB/s
Includes Micron's standard enterprise SSD warranty
We already know so much about the drive including its specifications and benefits, but what customers and distributors alike are still eagerly awaiting is an official shipping date from Micron.
View our Micron 7300 overview and part catalog to see the capacities and specifications that will be available.
Sign up to be the first to know, or reach out to speak with our resident Micron FAE, Keith, about how the 7300 can enhance your operation.