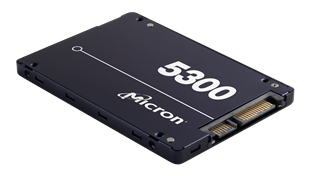 Micron's 1300 Series Client SATA solid state drives are now End of Life (EOL), and customers are asking about the migration path for SATA SSD users.
Micron offers the Enterprise SATA SSD in the Micron 5300 family, that offers the same 2.5" and M.2 form factors, both use the SATA III 6 Gb/s interface, both feature 96 layer TLC 3D NAND technology, and both have security encryption firmware to protect your data.
Where the Enterprise SATA Micron 5300 stands apart is endurance to increase the reliability of your solid state drive. The now end of life Micron 1300 1TB drive offered 400 Terabytes written (TBW ) for the life of the drive. in comparison to the Micron 5300 1 TB that offers a substantially higher 5256 TBW with their PRO version and the Micron 5300 MAX 1TB version offers the endurance of 8760 TBW. The Mean Time To Failure (MTTF) of the Micron 5300 is double to that of Micron 1300 comparing 3 Million device hours to the 1.5 million of the Micron 1300. The Micron 5300 comes with a 5 year warranty and a life cycle availability beyond 2022, to give a peace of mind to those who implement the Micron 5300 into their system.

The Micron 5300 is an upgrade in the scalability of capacities to choose from in comparison to the Micron 1300 series. With the Micron 1300, the options were 256GB to 2TB capacity in the 2.5" form factor, and 256GB to 1TB capacity in the M.2 form factor. Now, with the Micron 5300 Enterprise SATA the capacity options expand from 240GB to 7.68 TB in the 2.5" form factor, and the M.2 form factor has capacity options from 240Gb to 2 TB to give you the most flexibility in capacity options, while still have the same exact drive form, fit, and function in any of the Micron 5300 drives.
Due to the Micron 5300 being an Enterprise drive, more advanced features are available: Flex Capacity, AES 256-bit encryption, TCG Enterprise configurability, TCG Opal, power loss protection for data at-rest and in-flight, enterprise data path protection for user and meta data, secure firmware, adaptive thermal monitoring, easy to install (hot-pluggable), Storage Executive SSD management tool, and RAIN. The Micron 1300 did not offer the in -flight power data loss protection, Flex Capacity to partition drive, the Storage Executive SSD Management Tool software, and the TCG Security Subsystem Class (SSC) Enterprise specification for storage devices for servers, data centers, and enterprise applications.
With the Micron 5300 series SATA SSD, you will be utilizing the same form, fit, and functions of the Micron 1300 SATA drive, but now you will have access to a larger range of capacity options, a lot longer life SSD, with Enterprise data protection features, that are available in stock at Edge Electronics.
Good luck with your designs. I am available to help in any way - just reach out.
Keith Peterson